TEGERA ESD and ATEX protective gloves
TEGERA® presents one of the markets widest ranges of ESD and ATEX protective gloves.
HANDLING STATIC ELECTRICITY SAFELY
Safety is crucial. The ability to move smoothly with comfortable and fresh hands is also vital for efficiency and comfort at work. The demand for high-quality ESD protective gloves and ATEX safety gloves is increasing. TEGERA's extensive innovation experience and knowledge have resulted in one of the widest ranges of ESD and ATEX protective gloves.
WORKING SMOOTHLY IS A NECESSARY FACTOR
Many of our ESD and ATEX protective gloves are made of thin, breathable and flexible material with high dexterity and fingertip sensitivity – to enable smooth and safe work. Several models are also equipped with level B or C cut protection for easy handling of sharp objects – and touch screen functionality for unobstructed handling of displays.
FREE SAMPLE (UK and Republic of Ireland customers)
Please click here to get in contact with a sales representative that will guide you to the right safety glove model, that fits your needs. We will then send you a free glove sample.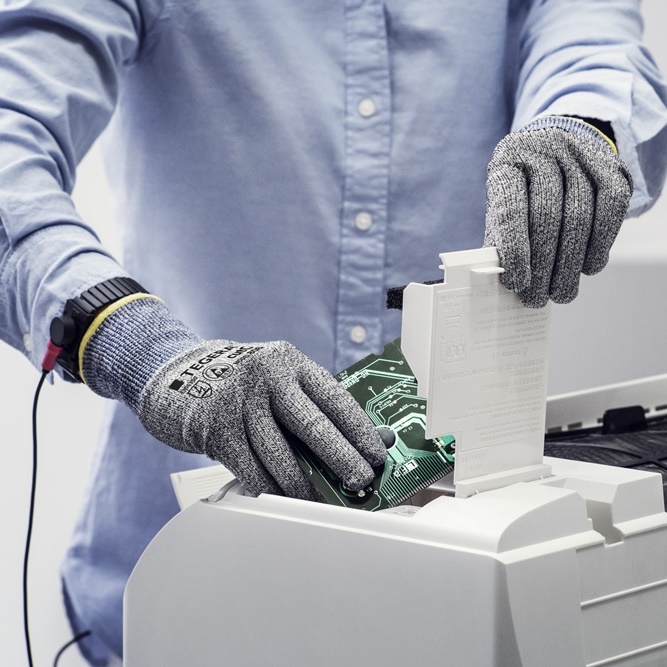 Renowned TEGERA ® ESD & ATEX Gloves premium features:
The features varies from model to model.
High dexterity and comfort
Fingertip sensitivity
High breathability
OEKO-TEX and Dermatest approved
Cut protection using TEGERA ® CRF ® Technology
Touch screen functionality